Parmesan crusted zucchini fries. The BEST Parmesan Fried Zucchini on the planet, dipped in buttermilk and crusted with parmesan cheese.so EASY to make!!! Give the spiralizer a break and make these crispy Parmesan Crusted Fried Zucchini Sticks. Coated in Panko breadcrumbs, parmesan and buttermilk then lightly pan fried.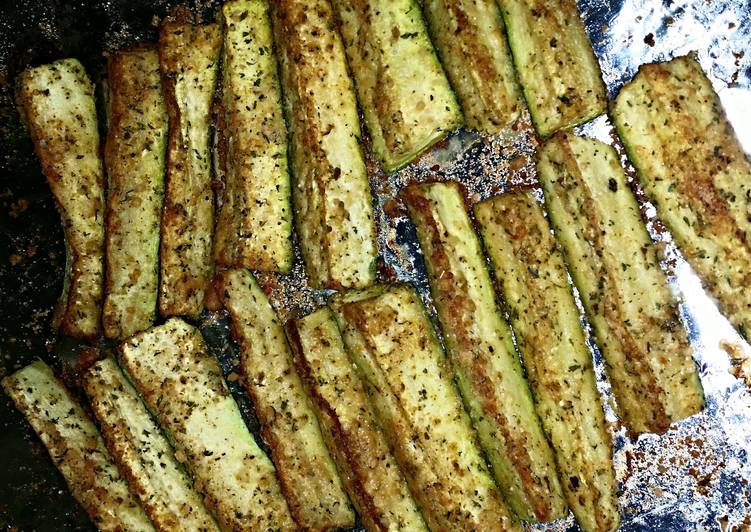 Today, I am going to teach you how to make zucchini fries; they are absolutely crispy, healthy (no deep-frying) and delicious. Delicious and addicting Parmesan Crusted Zucchini Fries make a perfect low carb and gluten free appetizer, side, or snack! Do you guys have those recipes that you're dying to make and it's on your list for a good year until finally one day you're like HOT DAMN, let's do this. You can cook Parmesan crusted zucchini fries using 10 ingredients and 5 steps. Here is how you achieve it.
Ingredients of Parmesan crusted zucchini fries
You need of main.
It's 2 large of zucchini.
Prepare 1/2 cup of parmesan cheese dry.
You need 2 tbsp of olive oil, extra virgin.
You need of seasoning dash to taste.
You need 2 dash of garlic powder.
Prepare 2 dash of cayenne pepper.
Prepare 2 dash of oregano.
It's 2 dash of ground black pepper.
You need 2 dash of Season salt.
In some circles zucchini is kind of a hard sell, am I right? Today's recipe will change all of that. It's a take on the classic deep-fried zucchini, but. Zucchini sticks dipped in egg and coated in parmesan+almond+seasoning -> awesomeness.
Parmesan crusted zucchini fries step by step
Cut zucchini into fry like pieces put in a bowl add oil and thoroughly coat fries.
In a separate bowl add all spices and parmesan mix thoroughly with a fork.
Take each fry and press into parmesan mix coat well then place on a foil lined cookie sheet you may want to spray with pam so they don't stick.
Bake at 350°F for about 30 to 40 minutes.
Plate and serve with some dip or as a side for grilled chicken breast or salmon.. enjoy 😊.
Super light and crispy, with a great crunch. Parmesan Crusted Baked Zucchini Fries Print this recipe! Zucchinis, Parmesan cheese, garlic, and paprika make these ultimate zucchini fries, that are so easy to make, and carb-conscious as well! Dip zucchini fries into beaten eggs, in batches; shake to remove excess, and roll in Parmesan mixture until fully coated. Place on the prepared baking sheet.