Schokoladig saftige Karamell Walnuss Brownies.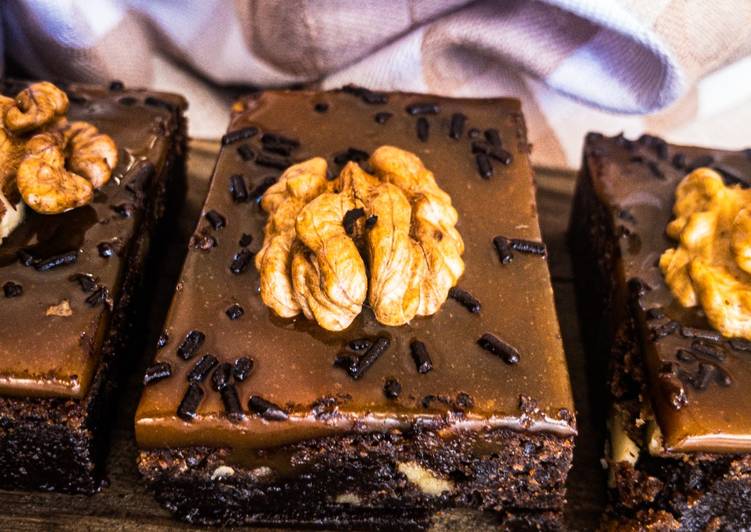 You can cook Schokoladig saftige Karamell Walnuss Brownies using 21 ingredients and 9 steps. Here is how you achieve that.
Ingredients of Schokoladig saftige Karamell Walnuss Brownies
You need of Karamell:.
Prepare 30 g of Butter.
You need 1/4 TL of Salz.
It's 200 g of Zucker.
You need 60 ml of Wasser.
You need 2 EL of Honig.
It's 60 ml of Sahne.
You need 1/2 of Vanilleschote oder Vanilleextrakt.
It's of Brownies:.
You need 110 g of Butter.
It's 100 g of Zartbitterschokolade.
You need 50 g of Vollmilchschokolade.
Prepare 100 g of Mehl.
It's 1/2 TL of Backpulver.
Prepare 2 of Eier, zimmerwarm.
You need 150 g of Zucker.
Prepare 1/4 TL of Salz.
It's 1/2 of Vanilleschote oder Vanilleextrakt.
Prepare 80 g of Walnüsse, gehackt.
Prepare of Deko:.
You need ca. 25 of Walnusshälften.
Schokoladig saftige Karamell Walnuss Brownies instructions
Karamell:.
Zuerst das Karamell herstellen. Dafür die Sahne mit dem Salz in einer Schüssel verrühren, bis sich das Salz aufgelöst hat. In eine große, tiefe Pfanne das Wasser mit dem Honig geben, den Zucker in die Mitte geben und darauf achten, dass er nicht den Rand berührt. Jetzt erhitzen und den Zucker einrühren, abdecken und für ca. 3 Minuten auf mittlerer bis hoher Hitze köcheln lassen..
Dann den Deckel abnehmen und die Hitze herunter stellen und weiter köcheln lassen, bis das Karamel eine hellbraune Farbe angenommen hat. Zwischendurch immer mal wieder umrühren. Dann die Pfanne vom Herd nehmen und die Sahne unterrühren. (Vorsicht: Kann spritzen!) Zum Schluss die Butter und Vanille hinzugeben und in eine mikrowellengeeignete Schüssel füllen. Beiseite stellen..
Im Wasserbad die Butter zusammen mit der hellen und dunklen Schokolade schmelzen lassen. Dann zur Seite stellen und etwas abkühlen lassen. In der Zwischenzeit das Mehl zusammen mit dem Backpulver in einer Schüssel mischen..
Die Brownies:.
Die Eier in einer großen Schüssel ordentlich mixen, dann den Zucker, das Salz und die Vanille hinzufügen. Alles ordentlich vermischen. Dann die Schokoladenmasse hinzugeben und zu einer homogenen Masse verrühren. Dann das Mehl dazugeben und zu einem Teig verarbeiten. Zum Schluss die gehackten Nüsse hinzugeben..
Eine Browniebackform einfetten oder mit Backpapier auslegen und mit der Hälfte des Teiges füllen. Dann ca. 1/4 des Karamells darüber verteilen. Die zweite Hälfte des Teiges dazugeben. Alles leicht mit einem Teigschaber oder Brotmesser verquirlen..
Die Brownies für ca. 35-40 Minuten bei 160°C Ober- und Unterhitze backen – mit dem Zahnstocher testen. Danach die Brownies für 1 Std. abkühlen lassen..
Das Karamell, wenn nötig, in der Mikrowelle kurz erwärmen, um es wieder flüssig zu machen, aber nicht zu heiß. Kurz durchrühren und dann über den Brownies verteilen und mit dem Teigschaber glatt streichen. Brownies im Kühlschrank erkalten lassen. Anschließend mit den Nusshälften dekorieren. Ich habe zusätzlich ein paar dunkle Schokostreusel genommen. Die Brownies zurecht schneiden, servieren und einfach genießen. Viel Freude beim Nachbacken. :).