Chocolate Coconut Pistachio Cookies.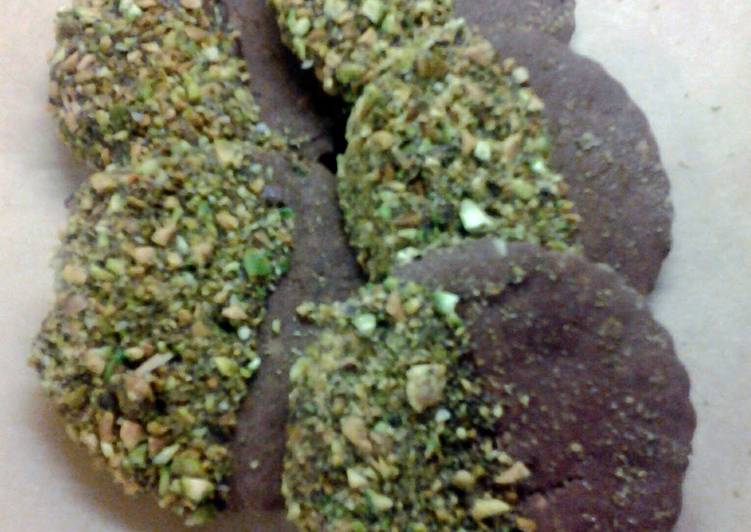 You can cook Chocolate Coconut Pistachio Cookies using 10 ingredients and 9 steps. Here is how you achieve that.
Ingredients of Chocolate Coconut Pistachio Cookies
Prepare 2/3 cup of light brown sugar.
Prepare 1 cup of butter.
Prepare 1 tsp of coconut extract.
You need 1 of egg, beaten.
You need 2 1/4 cup of all purpose flour.
It's 1/4 cup of unsweetened cocoa powder.
You need 1/4 cup of sweetened flaked coconut.
You need 3/4 cup of finely chopped pistachio nuts plus 1/2 cup for garnish.
You need 3/4 cup of semi sweet chocolate chips.
You need 1 tbsp of canola oil.
Chocolate Coconut Pistachio Cookies step by step
In a medium saucepan over low heat, melt butter and brown sugar together until melted and combined thoroughly. When melted remove from heat and add coconut extract. Set aside to cool and let stand for 15 minutes..
Once cooled add the brown sugar mixture to a large bowl. Mix in beaten egg, flour, and cocoa powder. Stir well then add in pistachio nuts and coconut..
Once completely mixed shape dough into a ball and wrap in saran wrap. Refrigerate for 30 minutes to an hour..
Once dough is chilled, preheat oven to 350°. Prepare a baking sheet by lining it with parchment paper or just use a plain ungreased baking sheet..
On a lightly floured surface, roll half the dough at a time to 1/4" thickness. Cut out cookies using whichever shaped cookie cutter you like. Place cutout cookies on the baking sheet about 1" apart from each other..
Bake at 350° for 9 1/2 minutes or until firm. Allow cookies to cool for 2 minutes before removing from baking sheet, then transfer to a wire rack to cool completely..
***Garnish***.
In a small saucepan heat the chocolate chips and canola oil over low heat until melted and well combined. Remove from heat. Dip half of each cookie into the chocolate and then into the 1/2 cup of remaining pistachio nuts. Let cookies dry and set on a piece of parchment paper, wax paper or foil. You can also stick them in the fridge on a baking sheet to set faster..
** Recipe adapted from Better Home and Gardens**.