Herb crusted rack of lamb. Here's what you need: rack of lamb, salt, pepper, olive oil, garlic, breadcrumb, fresh flat-leaf parsley, fresh rosemary, grated parmesan cheese, whole grain dijon mustard. This delicious Herb Crusted Rack of Lamb is so much easier to make than you think! Gordon Ramsay's top tips and recipe for cooking rack of lamb.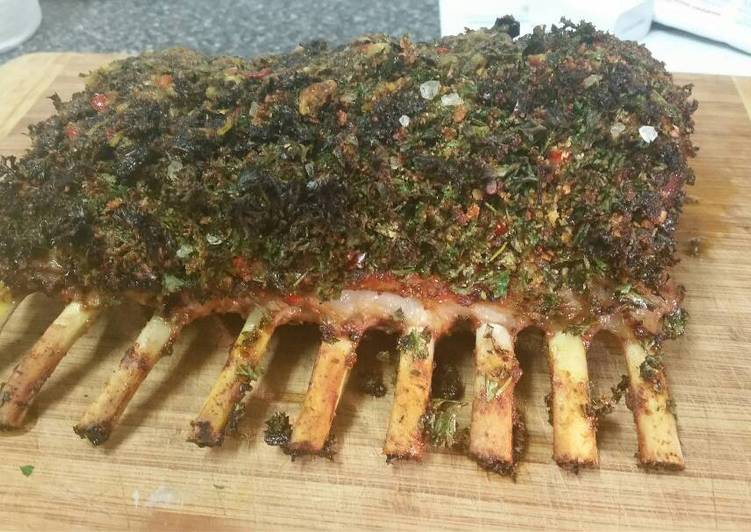 Place racks in a shallow baking pan side by side with bones interlaced resting against each other. Dip the lamb into the crust mixture coating it completely. Dip several times to ensure an even coating. You can cook Herb crusted rack of lamb using 12 ingredients and 6 steps. Here is how you achieve it.
Ingredients of Herb crusted rack of lamb
It's 1 of rack of lamb.
You need of Moroccan seasoning.
Prepare 2 of lemons.
You need 2 of limes.
You need 1 cup of parsley.
Prepare 1 cup of coriander.
It's 1/2 cup of breadcrumbs.
Prepare 3 cloves of garlic.
It's 2 of whole chillies.
You need 1 tablespoon of black pepper.
Prepare 1 teaspoon of rock salt.
You need of Olive oil.
Allow meat to rest for a bit. Gordon Ramsay made this tasty looking rack of lamb on the first episode of the first season of The F Word. Like many of Gordon's recipes, the primary herb ingredients are. Season the lamb with salt and pepper.
Herb crusted rack of lamb step by step
Start by removing the fat off the lamb and pat dry, once fat is removed squeeze the juice from 1 lemon and a lime over the lamb. Follow by rubbing the morrocan seasoning and some salt and pepper into the meat..
Finely chop the herbs(coriander & parsley) and place in a bowl to the side. Add the crushed garlic and diced chillies into the bowl along with the salt and pepper, then toss the ingredients together..
Squeeze a dash of lemon and lime to the herb mixture to give it a stickier consistency..
Once the herb mixture is complete drizzle some olive oil over the lamb and begin coating with the herb mixture so the lamb is fully covered..
Place lamb in a preheated oven (180°) and cook for 60 mins or until tender..
Once cooked set aside to rest for 5 mins and serve with a spicy, mint yoghurt and cous cous salad..
Combine the garlic, parsley, thyme, and breadcrumbs in a shallow bowl. The lamb tastes so good on its own, the seasoning should complement the lamb, not dominate it. Beneath the recipe I've included links to rack of lamb recipes from other food bloggers, and a recipe for a breaded herb crusted version from chef Gordon Ramsay that my father likes. Sprinkle lamb evenly with salt and pepper. Heat a large nonstick skillet over medium-high heat.