Walking Taco Bake. Walking Taco Casserole insanelygood This walking taco casserole is layers of Frito chips, ground beef, and shredded cheese, topped with lettuce, tomatoes, and olives. It's all the goodness of a taco salad in casserole form! Here's more about the ingredients and the preparation of this simple, mouthwatering dish.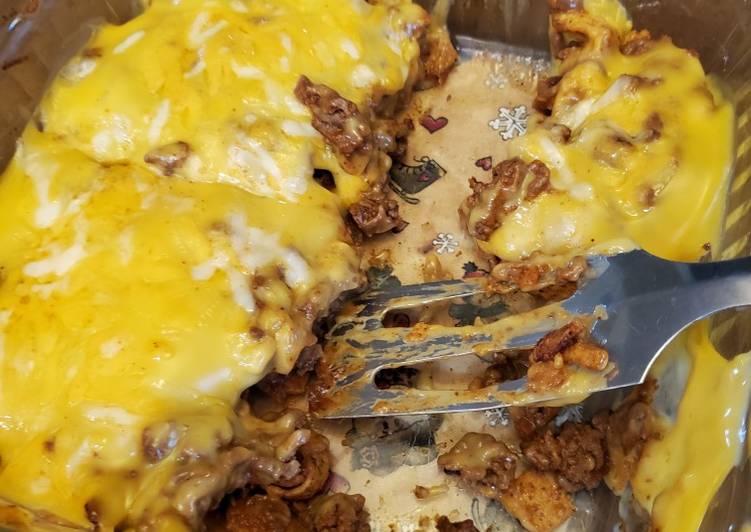 You can add salsa, sour cream, tomatoes, onions, avocado, jalapeno, etc. This walking taco casserole combines your favorite ingredients from a walking taco into a delicious casserole. Taco meat is layered in a baking dish with Frito chips, cheddar cheese soup and shredded Mexican cheese blend. You can have Walking Taco Bake using 7 ingredients and 8 steps. Here is how you achieve that.
Ingredients of Walking Taco Bake
Prepare 1 lb of ground beef.
Prepare 1 pkg of taco seasoning.
Prepare 2/3 cup of water.
Prepare of Chili cheese Fritos.
You need 1/2 can of cheddar cheese soup.
You need 1/4 cup of milk.
You need 1/4 cup of shredded taco cheese.
Once the casserole has finished baking, it is topped off with lettuce and tomato. Brown ground beef, drain fat and add taco seasoning and water.. Heat a large skillet over medium-high heat. Mix taco seasoning into the beef.
Walking Taco Bake instructions
Brown ground beef, drain fat and add taco seasoning and water. Simmer for 5 minutes..
Layer Fritos on bottom of 8×8 pan..
Place meat on top of Fritos.
In saucepan heat soup and milk over low heat until warm..
Pour cheese mixture over meat..
Sprinkle with shredded cheese..
Bake at 350 for 12 – 14 minutes..
Top with lettuce, tomatoes, onions, sour cream..
Crush chips without opening the bags. Open bags and spoon in seasoned beef. Cover with cheese, tomatoes, lettuce, and sour cream. These walking taco casseroles are absolutely delicious. Forget the casserole dish and put all of the ingredients into individual fritos bags for a fun dinner on a camping trip!