Coconut Crusted Chicken. Place coconut in a shallow bowl. Dredge chicken tenders in cornstarch mixture; shake off excess. Dip chicken in egg whites, then press chicken into coconut.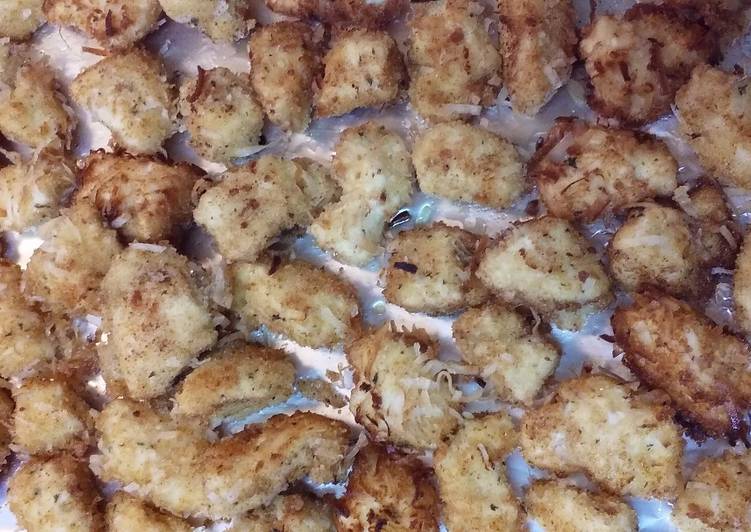 My hubby and son love cutlets. Often I make a traditional pork cutlet for them but since I like to eat low carb or Paleo I made these Paleo Coconut Crusted Chicken cutlets for me. This coconut crusted chicken recipe is perfect if you want some delicious crunchy, strips of chicken. You can have Coconut Crusted Chicken using 7 ingredients and 8 steps. Here is how you achieve that.
Ingredients of Coconut Crusted Chicken
It's 1 lb. of boneless, skinless chicken breasts, cut into smaller pieces (you can also use tenderloins).
You need 1/2 cup of all purpose flour.
It's 2 of large eggs.
It's splash of coconut milk (optional…regular cow's milk works just as well).
You need 3/4 cup of panko bread crumbs.
You need 1 cup of shredded coconut.
It's 1/4 cup of oil (vegetable or coconut).
They're pretty straightforward and only require three very simple ingredients. By the time you're finished cooking, you should have some succulent pieces of chicken with a crispy coconut outside. In another shallow bowl, beat egg with splash of water. In third shallow bowl, mix bread crumbs and coconut.
Coconut Crusted Chicken step by step
You'll need 3 separate shallow bowls. In the first, place the flour. In the second, place the eggs and splash of coconut milk. In the third, place the panko and coconut. Have a separate plate set to the side..
Dredge the chunks of chicken first in the flour, then the egg wash, and lastly in the panko and coconut mixture. Place the coated pieces into the separate plate..
Time saving tip: You can get the chicken ready a few hours in advance and keep covered in the fridge until ready to cook..
Preheat your oven to 375°F. Line a large baking pan with foil and set aside..
Heat oil in a skillet. Once heated, place chicken chunks about 4 or 5 at a time in the skillet..
You just want to brown the outside so they'll be nice and crispy…but don't worry about the chicken being cooked through just yet. Allow to cook on one side for 2 or so minutes, then flip and cook on the oposite side for another 2 minutes, until both sides are just golden brown..
Once both sides of the chicken are golden, place them on the prepared pan. Once you have browned all the chicken, place the pan in the oven for about 10 minutes, or until chicken is thoroughly cooked through..
Serve immediately and refrigerate any leftovers. To reheat leftovers, preheat the oven to 350 F. Cook the chicken just 5-10 minutes…just long enough to heat it through. Do not recommend using the microwave, as the chicken will not be crispy..
Coat each chicken strip in the coconut flour, then dunk in the egg and coconut milk mixture and finally coat in the shredded coconut. It adds a bit of sweetness to the final chicken tenders which makes them that much more delicious. The other big thing that changes this dish is how the coconut is prepared. Instead of keeping the coconut as is, I quickly pulse the coconut. Put the chicken in a large bowl with the lime zest and juice, curry powder, chilli powder, if using, and seasoning.