Egg Croissant Breakfast Bake. That's where this breakfast bake comes in! Cheese, brown sugar ham, caramelized onions, and spinach baked into And you stand in support of Swiss and Gruyere cheese, brown sugar ham, caramelized onions, and spinach baked into creamy eggs and topped with a crispy golden croissant topping? Our version is ham and egg, but feel free to substitute crumbled cooked bacon.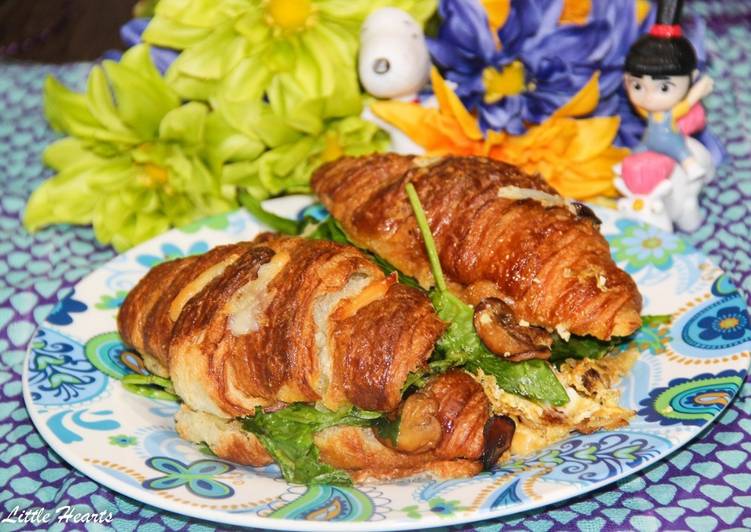 Omelette-stuffed Croissant, Caramel Croissant Pudding, Easy Breakfast Croissant Puff. These Breakfast Croissant Boats are filled with fluffy eggs, crispy bacon and cheese before being baked to perfection in the oven. If you love croissant breakfast sandwiches but want to switch things up, then give these croissant boats a try! You can cook Egg Croissant Breakfast Bake using 10 ingredients and 5 steps. Here is how you cook it.
Ingredients of Egg Croissant Breakfast Bake
Prepare 2 of Croissants.
You need 2 of Eggs.
You need 1/2 cup of Baby spinach.
Prepare 1/4 cup of Mushrooms sliced.
Prepare 2 tsp of Extra-virgin olive oil.
You need 1 cup of Cheddar cheese coarsely grated.
It's 1/2 cup of Whole milk.
It's 1 tsp of Pepper powder.
Prepare To taste of Salt.
Prepare As needed of Unsalted butter.
This Blueberry Croissant Breakfast Bake is so easy to throw together and tastes absolutely amazing. In a large bowl, mix eggs, vanilla, cinnamon, bananas, and milk until completely incorporated. Pour over croissants and use a spatula to press down on the croissants, making sure. Whisk the milk, eggs, sugar, vanilla, cinnamon, and salt together in a large bowl.
Egg Croissant Breakfast Bake instructions
Preheat the oven to 375 degrees Fahrenheit..
Melt butter in a pan. Add the sliced mushrooms and fry until golden, stirring occasionally. Season to taste. Remove from flame and keep aside..
Grease a casserole dish with olive oil. Cut the croissants into halves, making sure not to cut all the way through. Stuff the croissants with spinach, cooked mushrooms, and half of the grated cheese..
Place it into the casserole, cut sides facing up. In a bowl, beat the eggs with milk, salt, and pepper. Pour the egg mixture over the croissants. Sprinkle the remaining cheese over the top of the croissants. Cover with foil and refrigerate for 10-15 minutes..
Bake for 20 minutes, then remove foil, and bake again until the eggs are puffed and just set, for another 10-20 minutes. Remove from the oven and serve warm..
Pour evenly over the croissants and berries. Press down on any large croissant pieces that aren't submerged in the liquid. It's delicious, filling and easy to prep! Flaky croissants, juicy berries, and a sweet cream cheese sauce bake together and taste a bit like a cheese danish! Add cream cheese to mixing bowl and beat with hand mixer until smooth.