Orzo Spinach and Pinnoli Nut Sautee. Orzo with Spinach and Pine Nuts. I have shared this salad many times with the teachers at my school. They enjoy it so much that they ask me to bring it in.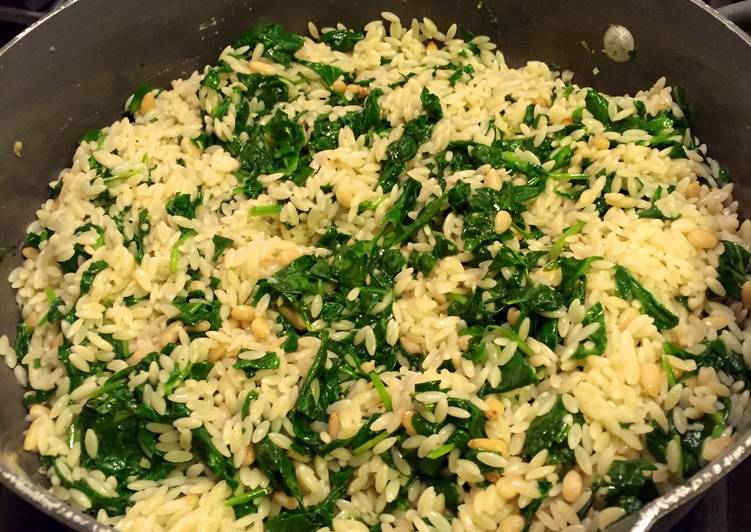 A wonderful side dish for those summer BBQ's!! Transfer the spinach to a colander set over a bowl and drain. When cool enough to handle, press down on the spinach to extract as much liquid as In a large heavy skillet, heat the remaining tablespoon of olive oil over medium heat. You can cook Orzo Spinach and Pinnoli Nut Sautee using 5 ingredients and 7 steps. Here is how you cook that.
Ingredients of Orzo Spinach and Pinnoli Nut Sautee
It's 1 bag of baby spinach shredded.
It's 1 tablespoon of pinnoli nuts.
Prepare 1/4 pound of orzo.
You need 3 cloves of finely chopped.
You need 2 tablespoons of olive oil.
Toss with orzo, season with salt and pepper to taste. Classic spinach and orzo salad with orzo pasta, fresh spinach, feta cheese, pine nuts, Greek olives, and red onion. This spinach, orzo, and feta salad recipe comes from our happy family collaboration. Feel free to experiment with the proportions.
Orzo Spinach and Pinnoli Nut Sautee step by step
In a large deep dish skillet heat olive oil.
Add garlic and pinnoli nuts to skillet to lightly toast nuts.
Add spinach and sautee.
In medium sauce pan boil water and cook orzo as per package instructions.
When orzo done use a spider to spoon out orzo and add to skillet till all in incorporated with the spinach and pinnoli nuts.
Ensure you do not strain orzo as using the spider retains the starch and makes a creamy consistency with the spinach and pinnoli nuts.
Season with salt and pepper to taste and serve as a side dish to fish or meats.
Grind basil in processor, then add garlic and nuts. Add black. serve, heat (do not boil) and add more cream to make a sauce. Rinse basil and pat dry. immediate use add pignoli and cheese and run food . and pignoli in processor and blend again with defrosted pesto. Orzo pasta, olive oil, extra-virgin, pignoli nuts, basil, salt, black pepper. Meanwhile, in a small, non-stick skillet, heat oil and stir in pine nuts.