Homemade Croissants. Place on a baking sheet, curving slightly. Let shaped croissants rise until puffy and light. This Homemade Croissants recipe is so buttery, flaky, and will make your morning breakfast so much more delicious!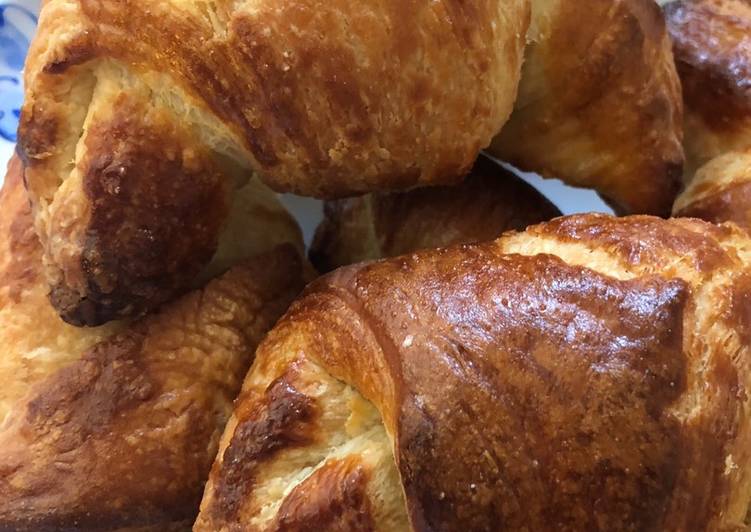 It was awesome to see the finished product. I never thought I could make my own croissants so I'm sure anyone can do it if I can. I'm so proud of this recipe and I hope you give it a try. You can have Homemade Croissants using 7 ingredients and 15 steps. Here is how you cook it.
Ingredients of Homemade Croissants
Prepare 500 g of strong white bread flour plus extra.
Prepare 10 g of salt.
You need 80 g of caster sugar.
You need 10 g of instant yeast.
It's 300 ml of cool water.
Prepare 300 g of chilled unsalted butter.
Prepare 1 of medium egg.
Make Ahead Instructions: Croissants are perfect for getting started ahead of time. The croissants turn out fairly hollow inside (exactly as pictured); next time, I might try a different recipe and different flours (I've seen recipes using bread flour and cake flour) to see if that creates the striated dough layers throughout. • Making croissants is a labour of love, so don't waste any dough – cut smaller triangles and make mini croissants from any offcuts. Beat the egg with the tablespoon of water to make the egg wash. Cool on a rack before serving.
Homemade Croissants step by step
Use the dough hook on your mixer. Put the flour into the mixer bowl and add the salt, sugar, yeast and water. Mix on a slow speed for 2 minutes then on a medium speed to 6 minutes..
Take the dough out of the mixer and put onto a lightly floured surface shape it into a ball dust with flour put into a plastic bag and chill in the fridge for an hour..
After an hour on a lightly floured surface roll out the dough to a rectangle roughly about 60 x 20 cm..
Take your butter and flatten it into a rectangle by bashing it with a rolling pin. Make the rectangle about 40 x 19 cm..
Put the butter on the dough so that it covers 2/3 of the dough. The shape of my worktop means i have the long side on top. Width-way it should come almost to the edges..
Fold the dough by folding one third of the dough to the centre and then for the other third over the top. Pinch the edges slightly to seal in the butter. Put it back in the plastic bag or cover in some way and chill in the fridge for an hour..
Take the dough out of the bag and put it on a lightly floured surface. Roll into a rectangle again about 60 x 20 cm and do the fold again. Cover it again and back in the fridge for an hour. Do that step two more times..
After the final fold put the dough back in the fridge overnight or at least 8 hours..
Line 2 or 3 baking trays with baking paper..
Take the dough out of the fridge. Put it on a lightly floured surface and roll another rectangle. This time make it about 40 x 30 cm. Trim the edges with a really sharp knife or a pizza cutter..
Then cut the rectangle lengthways into two strips. I then cut each strip into three squares. Then cut each square into two triangles. You can use your hands to shape the triangles..
At the wide base of the triangle make a tiny cut and then, starting at the wide end, roll up into a croissant. If you want the crescent shape, curl the ends in..
Put the croissants on the trays. They need some space so 4-6 per tray. Then the final proove – cover and leave in a cool room for a couple of hours. I skipped this today so today's croissants are mini 😁.
Preheat your oven to 200°C. Lightly whisk the egg with a pinch of salt to make an egg wash..
Use this to brush the tops and sides of the croissants. Bake for 15 to 20 minutes until golden brown. Cool slightly but be sure to enjoy warm 😋.
I hear it all the time "they are so hard to make!" So here is an easy guide on how to make homemade croissants! The hardest part, is to keep your self from over indulging! by Rikki Kazmierowicz. This simplified croissant recipe will have you baking croissants like a pro. Flaky, buttery, and deliciously authentic, yet so easy to make! Today I am sharing a recipe that has been on my bucket list for years: homemade croissants!