Fried Rice With Eggs And Basil. This is a great use of leftover rice. It's important to use Thai sweet basil to get the authentic Thai restaurant taste. And don't skip the fish sauce, it smells strong in the bottle, but it blends in nicely with the other ingredients when it's all put together.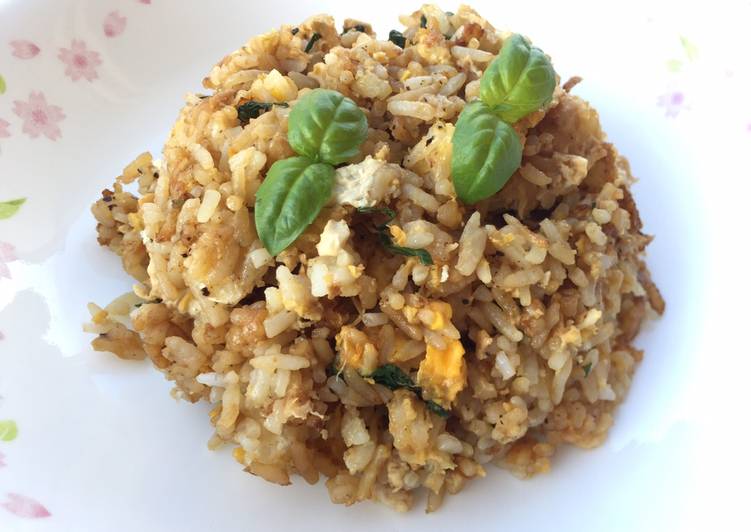 Crack the egg into this space and quickly stir-fry to scramble it (this only takes a few seconds). When the egg is cooked, combine it with the other ingredients. My egg fried rice recipe uses egg that's slightly flavored with turmeric and paprika, which I think is a unique addition. You can have Fried Rice With Eggs And Basil using 7 ingredients and 4 steps. Here is how you cook it.
Ingredients of Fried Rice With Eggs And Basil
You need 1 tbsp of Of oil.
It's 4 cup of cooked rice.
You need 5 of eggs.
It's 15 of basil leaves (shredded).
It's 4 tbsp of light soy sauce.
It's Dash of salt and black pepper.
You need 1 tbsp of Of oil.
It adds color to the dish, making it a vibrant yellow. If you like eggs in your fried rice, try Eggs and Bacon Fried Rice or if you like a twist on a classic, try Thai Basil Shrimp Fried Rice or. If you like this video don't forget to give us a like on the video and subscribe to our channel it means a lot for us. Thank you with ❤️ RED FOOD.
Fried Rice With Eggs And Basil instructions
With 1 tbsp Of oil add in the cooked rice and quick stir fry.
Add in the seasoned lightly beat eggs and shredded basil with 2 tbsp Of light soy sauce then flip over only once and let it set for 1 minutes,.
Add in the balance of the 2 tbsp Of light soy sauce and flip the rice over and let it set again for another 1 minutes, add another 1 tbsp Of oil around the pan.
By now most of the eggs are set then break up the rice and eggs and gently stir fry it to mix for another few minutes.
Spicy Thai basil chicken with egg and rice is a quick and easy Asian-inspired meal for lunch or dinner; serve with sliced cucumber and tomato. Use this Thai-inspired weeknight recipe to turn leftover rice into fragrant fried rice with eggs, marinated chicken, and fresh cilantro. My daughter loves rice, especially fried rice. Heat oil in either a wok or nonstick frying pan over medium heat and add beaten eggs. Gently scramble the eggs; when they are almost done, remove from wok and set aside.