Osso Buco with Creamy Polenta and Citrus Gremolata.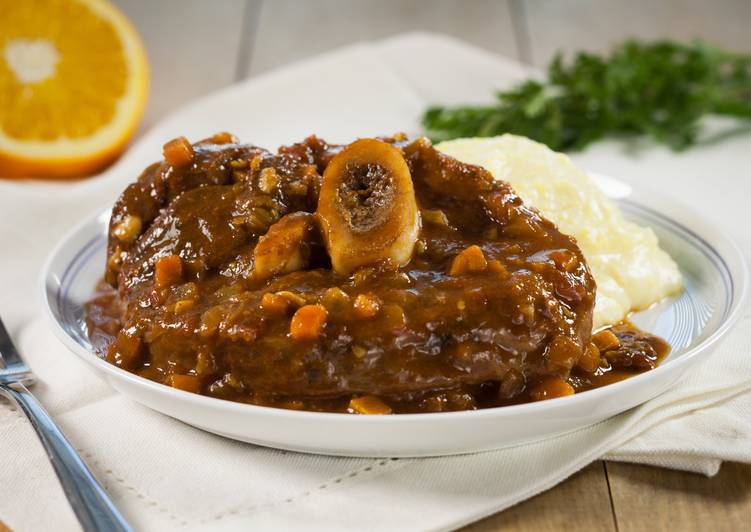 You can cook Osso Buco with Creamy Polenta and Citrus Gremolata using 21 ingredients and 20 steps. Here is how you cook it.
Ingredients of Osso Buco with Creamy Polenta and Citrus Gremolata
Prepare 2 each of Osso Buco cut veal shanks.
You need 1 cup of Polenta.
It's 5 cup of Veal Stock (Chicken or Vegetable stock will work as well).
Prepare 3 tbsp of Butter.
You need 3 cup of Yellow Onions, finely diced.
It's 1 cup of Celery (two stalks), finely diced.
You need 3/4 cup of Carrots, finely diced.
Prepare 1 tsp of Dried Oregano.
It's 3/4 cup of Dry White Wine.
Prepare 3 tbsp of Tomato Paste.
Prepare 1 of 28oz Italian Plum Tomatoes, drained & chopped with juices reserved.
Prepare 1 large of Sprig Thyme.
Prepare 1 of Bay leaf.
Prepare 1/4 cup of Parmesan Cheese.
It's 1 tbsp of Orange Zest.
It's 1 tbsp of Lemon Zest.
Prepare 1 clove of Garlic.
It's 2 tbsp of Parsley.
You need 1/4 cup of Olive Oil.
It's 1 of Salt.
It's 1 of Pepper.
Osso Buco with Creamy Polenta and Citrus Gremolata step by step
Season the raw osso buco shanks lightly with salt and pepper..
Place your seasoned veal shanks into a sous-vide pouch..
Vacuum seal the bag and cook in a water bath at 61 C (141.8 F) for 30 minutes **Time and temperature is referenced from Thomas Keller?s Under Pressure sous-vide book**.
Warm a sauce pan to medium heat and add 1T of butter and olive oil..
When the butter is melted, add the onion, celery, carrot, oregano, and 1 tsp. salt..
Cook the vegetables, stirring occasionally, until soft and lightly browned, approximately 15 to 20 minutes..
Increase the heat to medium-high, add the wine, and cook, scraping up any brown bits with a wooden spoon, until the wine is reduced to about 1/4 cup, about 3 minutes..
Stir in the tomato paste. Add the tomatoes with their juices, 1 C stock, thyme, bay leaf, 1/2 tsp. salt, and a few shakes of pepper. Bring to a boil..
Preheat oven to 375°F..
Open the pouch of Osso Buco and place all contents single layer into a baking dish..
Pour the contents of the sauce pan over the shanks..
Cover tightly with heavy-duty aluminum foil and heat for 30 minutes in the oven or until warmed through..
In the meantime, bring the remaining stock to a low boil, slowly stream in the polenta while whisking continuously..
Bring to a simmer and cook until soft and creamy. Add more stock as needed..
Whisk in 2 T of butter and parmesan cheese, season with salt and pepper; cover and hold warm..
Grate the orange and lemon..
Mince the garlic and chop the parsley..
Combine the zest, garlic and parsley, and blend together..
Remove the Osso Buco from the oven..
Transfer the polenta to a serving dish, place the Osso Buco in the center, and top with the Gremolata. Buon Appetito!.