Mini Baklava Cups. These mini baklava cups taste like authentic baklava but are so much simpler! The mini fillo Shells come pre-baked and make the process way easy. Made with store bought mini phyllo pastry shells.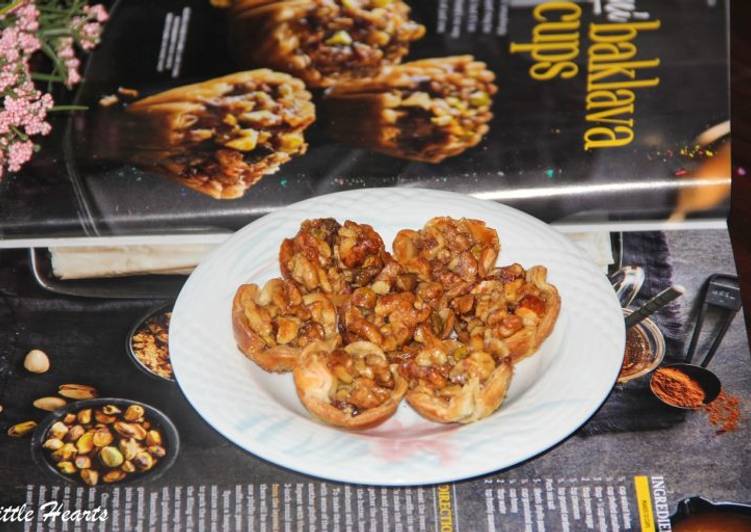 All of those delicious toasted nuts paired perfectly with the crispy phyllo and warm. Baklava Cups–way easier than making traditional baklava and they look amazing! Mini Baklava Cups: made my own phyllo cups by layering sheets and brushing them w clarified butter. You can have Mini Baklava Cups using 10 ingredients and 4 steps. Here is how you cook that.
Ingredients of Mini Baklava Cups
You need 1/2 cup of Walnut coarsely chopped into small pieces.
It's 1/3 cup pieces of Unsalted pistachios coarsely chopped into small.
Prepare 1/2 cup of Melted butter.
It's 1 pinch of Cinnamon powder.
It's 1/4 tsp of Ground cardamom.
It's 5 of Phyllo pastry sheets.
You need 1/2 cup of Brown sugar.
You need 2 tbsp of Freshly squeezed lemon juice.
It's 2 tbsp of Water.
Prepare 1/2 cup of Honey.
Here's an easy baklava recipe to get that signature flavor without too much effort: baklava bites! They're easy to whip up using purchased phyllo dough. These Mini Baklava Cups are a cute, bite sized dessert with all the flavors of baklava – but without all the work! This middle eastern dessert is crunchy, nutty, delicious and fairly simple to make this would be perfect for Eid or any other celebration.
Mini Baklava Cups instructions
Preheat the oven to 350°F. Spray a mini muffin tin with cooking spray. In a small bowl, mix together the chopped nuts, 4 tbsp of melted butter, brown sugar, cinnamon, and cardamom. Keep this mixture aside..
Generously brush 2 phyllo sheets with butter, place another set of 2 phyllo sheets and brush again with butter. Repeat with 2 more layers. Using a cookie cutter, cut 12 rounds from the layered stack of phyllo sheets. Carefully place each phyllo round into each mould of the muffin tin and press it down to form a cup shape..
Add a tablespoon of the nut mixture into each cup. Place the muffin tray in the oven and bake until golden and crisp, for about 10-12 minutes. Remove from oven and allow them to cool for 5 minutes. Carefully remove the cups from the muffin tin and transfer them on a parchment paper-lined baking sheet..
In a saucepan, add the brown sugar, honey, water, and lemon juice and boil until syrupy. Pour this syrup into each cup, letting it absorb, then add more until all the syrup is used up. Leave it aside to cool. Serve immediately and indulge every bite!.
These delicious little miniatures give you the taste of baklava in a bite-sized package. Baklava has amazing memories for me; my best friend made it for my bridal and baby showers. This heavenly Baklava combines honey-soaked layers of flaky phyllo pastry with spiced walnuts. It's a great make-ahead dessert perfect for the holidays or special occasions. Baklava bites – yes and YES!